Our Mission
Our mission is to provide a central location using a multidisciplinary team approach to the evaluation, intervention, prevention
and treatment for children (and their non-offending caregivers) as well as those adults who have been victims of sexual assault.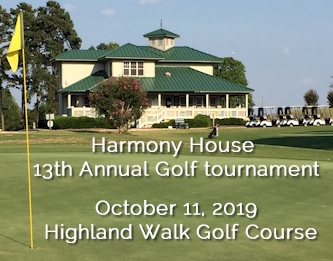 13th Annual Harmony House Golf Tournament
Friday, October 11, 2019 – Highland Walk Golf Course at Victoria Bryant State Park
                               8 am registration   –   9 am shot gun start.
Please help support victim services by participating in this fun event!! $ 500 First Place Team Prize! Bar-H Barbecue bag lunch to follow play. Lots of door prizes. If you can't be a part of this fun day support victim services with sponsorship and/or door prizes. All donated items and sponsorship's are greatly appreciated and make this fundraiser extra special!   
Click here for Golf tournament flyer and Team Registration form


Child Advocacy Centers offer unique ways of serving abused children through a comprehensive approach to services for victims and their families. Learn more…


Sexual Assault Centers provide support and information so that a victim can be empowered to heal, while acknowledging the survivors dignity and respect of his/her decisions.   Learn more…
Our Work
Learn more about Harmony House…  just click on any of the information areas below

Harmony House is proud to be partners with the following organizations…


"This project is supported by Sub-Award No._C15-8-023_ awarded by the Criminal Justice Coordinating Council administering office for the STOP Formula Grant Program. The opinions, finding, conclusions, and recommendations expressed in this publication/program/exhibition are those of the author(s) and do not necessarily reflect the views of the Criminal Justice coordinating Council or the department of justice, Office on Violence Against Women"